Graydon's Restaurant
We are now serving dinner throughout the 2016 season. Thursday thru Sunday from 5:00pm-9:00pm.
Hours of Operation
We are open from 5:00pm – 9:00pm, Thursday – Sunday. Closed on Monday, Tuesday & Wednesday.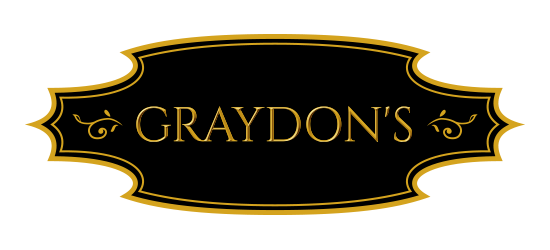 Starters
Menu designed and prepared by Chef Alain Lemire.
Crispy Potato Pancake
Crispy Potato Pancake, complemented by Smoked Salmon, Capers, Onions and seasoned Sour Cream $13
Prawns
Four Large Prawns sautéed in Brandied Basil Butter $9
Soup Du Jour
Please ask your server for our daily selections. $9
Fall Green Salad
Fall greens served with Poached Apricots, dried cranberries & Walnuts, tossed in an Apple Cider Vinaigrette and garnished with crumbled Blue Cheese $10
Mains
*Mains are served with a choice of one side. A second side can be added for $6. Sides are listed at the bottom of the menu!*
Grilled Pork Chop
Grilled 9oz Bone In, marinated Pork Chop, topped with a Maple Glaze & accompanied with buttery mashed potatoes $29
Breaded Chicken Breast
Breaded Chicken Breast, stuffed with Swiss Cheese, Ham & Mushrooms $25
Beef Tenderloin
AA 6oz Beef Tenderloin, marinated & grilled to perfection, topped with Herb Butter & garnished with rice $38
Penne Pasta
Tri-Coloured Penne Pasta tossed with a medley of fresh grilled Vegetables in a creamy Basil Sauce $18
Add a grilled marinated Chicken Breast $7
Add four large grilled marinated Prawns $7
Chicken Breast Salad
Marinated oven roasted 6oz Chicken Breast over Baby Greens, Mushrooms, Goat Cheese & Sun-dried Tomatoes tossed in a house Balsamic Vinaigrette dressing. Does not include a side $18
Grilled Cod
Grilled seasoned Cod cooked to perfection and garnished with rice $20
Rack of Lamb
Fresh Herb & Garlic crusted 9oz Rack of Lamb, garnished with rice $38
Side Items $6
Seasonal Vegetables
Crispy Potato Wedges
Small Sald with Balsamic Dressing
Gourmet Onion Rings
Desserts $9
Please ask your server for our daily selections.